Superior Store
From 5.00€ Remote control Superior Hotel TV
Hotel - VIES EN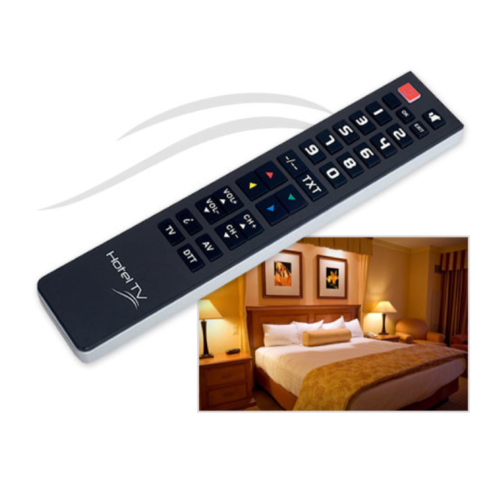 You have a valid VAT number?

European Commission - Taxation and Customs Union - Check your tax number VIES
To buy without VAT only applies if you have a valid number in the European Union and resides outside of Spain. Required indicate VAT number, when ordering in "Comments"
---
Hotel TV
Control the TV, and optional a DTT
(2 in 1), via the same keyboard.
DTT (change channels) + On / Off + VOLUME
TV (channel changing) + On / Off + VOLUME + TXT + INFO + + AV MUTE
Programmable by computer with Windows system.
Programming requires exclusive Superior IR-USB programmer.
The database with more than 260,000 codes is updated daily.
Elegant black glass and lengthened for better grip design, two rows of keys provide access to functions, perfect for seniors simplified keyboard.
Re-programmable universal for all brands.
MENU key inaccessible prevents unconfigure the device, (hotel mode) on any TV or DTT.
No memory lost when changing batteries.
Power supply 2 AAA alkaline batteries
CE standard and RoHS
Programmer
No programmer (0) IR-USB (5.95)
Quantity
x 10 / 6.50€u. (60) x 25 / 6.00€u. (145) x 120 / 5,00€u. (595)
Colour
Black (0) White (0)